Plan your next holiday with peace of mind using MyGuichet.lu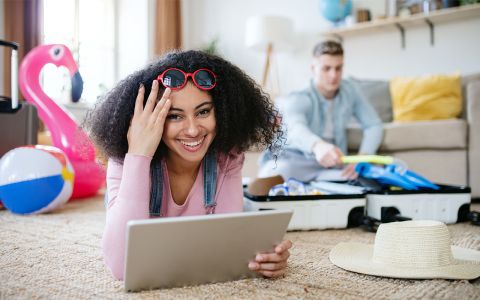 The summer holidays are coming up! In order to travel abroad with as much peace of mind as possible, MyGuichet.lu allows you to make certain preparations directly online in a few clicks.
Identity papers
Whenever you are planning a stay abroad:
find out in good time about the travel documents required for the country of your destination; and
make sure that these documents are still valid.
If your identity card or passport is no longer valid, apply for a new one as soon as possible. With MyGuichet.lu, you can easily pay for your new identity documents online - up to 6 months before the application.
These are procedures without authentication, i.e. they can be carried out without connecting using a LuxTrust product or an electronic identity card (eID).
MyGuichet.lu not only allows you to make your payment online, it also allows you to book an appointment at the Guichet.lu reception desk or the passport office to claim and collect your new identity documents. This is also a quick procedure and does not require authentication.
Lëtzebuerger am Ausland
If you encounter a problem during a stay abroad (accident, need for repatriation or provisional travel documents, etc.), you have the possibility to request consular assistance.
In order to benefit from this assistance under the best conditions, you can declare your stay to the Ministry of Foreign and European Affairs (MAEE). This way, the Luxembourg authorities will be able to help you more quickly!
With the 'Lëtzebuerger am Ausland' procedure on MyGuichet.lu, your stay can be declared in no time. It is available with or without prior authentication.
Furthermore, after downloading our mobile application MyGuichet.lu and linking it to your private eSpace, you can also carry out the procedure directly from your smartphone or tablet.
Social security documents
The European Health Insurance Card allows you to receive health care during a temporary stay in the countries of the European Union (EU), Iceland, Liechtenstein, Norway or Switzerland under the same conditions and at the same rate as people insured in these countries.
It can take up to 3 weeks to send the card. In the event of a late application, the card can be replaced by a provisional certificate which:
is valid for 3 months;
can be applied for online:
In addition, if you are staying in a country with which Luxembourg has a bilateral agreement, you must submit a certificate to the social security institution of the place of your stay. This certificate certifies that you are entitled to the necessary benefits in kind during your stay.
The request for a certificate can be made any time online:
Complaint form for air passengers
When travelling by air, you are entitled to compensation in the event of, for example
denial of boarding;
cancellation of a flight;
significant delay of a flight.
If such an event should happen to you, you can file a complaint with the airline. If after filing the complaint, you do not receive neither a reply within 2 months nor a reply deemed satisfactory, you can contact the Ministry of Consumer Protection.
Thanks to MyGuichet.lu, you can easily file your complaint online. The procedure is available with or without prior authentication.
On Guichet.lu, you will also find other useful information on the rights and obligations of travellers.