Manage your family-related administrative procedures on MyGuichet.lu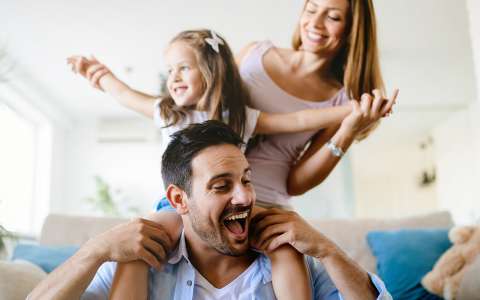 Did you know that there are a number of online services related to family benefits, parental leave and leave for family reasons? These administrative procedures - which can be carried out via our secure MyGuichet.lu platform - aim to simplify the daily life of parents and future parents.
In order to benefit from all the online services on offer, you must have a private eSpace on MyGuichet.lu. To create an eSpace, you need a LuxTrust product or an electronic identity card.
Apply for family benefits
You can apply for family benefits from the Children's Future Fund (CAE) online via MyGuichet.lu. This family allowance is a financial benefit that compensates for family expenses, i.e. the financial costs associated with the care and education of children.
For more information on who is concerned and how to apply, see our explanatory information page.
Modify your bank details
If you want your family benefits to be paid into a different account from the one you have provided, you can send a letter to the CAE stating your new account number and enclosing a bank account identification document (RIB).
You can also opt for the MyGuichet.lu online procedure and change the bank details used by the CAE yourself.
Activate the eDelivery function for your family benefits
By activating the eDelivery function, you will receive certain official documents sent by the CAE in electronic format (called "eDocuments") in your private eSpace on MyGuichet.lu.
Currently, the documents falling under this service are:
the maternity allowance: letters informing you about the payment of postnatal, prenatal and birth grants;
family allowance: statements of the differential supplement and family allowance, information letter concerning the cessation of family allowance, etc.;
parental leave: income certificate, pay slip, request for supporting documents and individual statement.
To use this service, you must first activate the eDelivery function in the "My data" tab of your private eSpace on MyGuichet.lu. To do so:
go to the "Family" section; and
click on "Activation of services" in the sub-heading "Family benefits" and/or "Parental leave".
These steps are necessary to receive the documents in the electronic mailbox your private eSpace.
You will receive an email as soon as a new document is posted in your private eSpace. The document can be consulted in PDF format.
Send documents to the CAE
You can send documents electronically to the CAE via the secure MyGuichet.lu platform. Documents can be added at the end of the online procedure by clicking on the "Add a supporting document" button.
This online procedure does not require authentication, i.e. you do not need a LuxTrust product or an electronic identity card.
However, please note that sending documents electronically is only possible for:
already existing files; and
files for which a formal application to the CAE has already been made.
CAE reserves the right to request that the original supporting document be sent by post:
for certain specific documents; or
because the documents sent in PDF format were of poor quality.
Check your family-related leave balance
If you have a private eSpace on MyGuichet.lu and are affiliated with the National Health Fund (CNS), you can consult your balance of days of leave for family reasons online.
To do so, you must first log on to MyGuichet.lu with your LuxTrust product or electronic identity card on and select the "My data" tab. In the "Health/Social" section, click first on "Health insurance fund" and then on "Leave for family reasons".