Consult the CovidCheck Certificates of your minor children
Coronavirus / Covid-19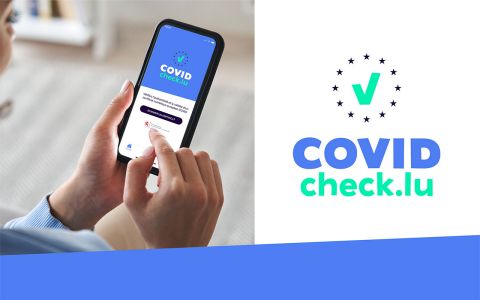 As a parent, you can now view and/or download the CovidCheck Certificates of your minor children registered at your address.
To do so, go to your private eSpace on MyGuichet.lu and click on the "My data" tab:
select "CovidCheck Certificates" in the "Certificates" section;
then select the child you are looking for in order to access their certificates.
There you can find all the certificates in digital format that have been issued:
in case of vaccination in Luxembourg;
in the event of a negative COVID-19 test, performed by a laboratory in Luxembourg (valid for 72 hours) provided that the laboratory transmits the national identification number (matricule) of the person tested when generating the certificate;
in the case of a negative COVID-19 rapid antigen test certified in Luxembourg (valid for 48 hours);
in the case of recovery from COVID-19 (valid between the 11th and 180th day after the positive PCR test).
You
do not yet have a private eSpace on MyGuichet.lu
? Consult our
tutorial
which guides you step by step in the
creation of your own private eSpace
.
It is reminded that the CovidCheck Certificates available in the private eSpace on MyGuichet.lu contain a secure QR code that allows to check the authenticity and validity of the certificates. This QR code can be scanned with:
the CovidCheck.lu mobile application made available by the Luxembourg government; and
the equivalent applications from the different countries participating in this system:

the 27 EU Member States;
Iceland;
Liechtenstein;
Norway;
Switzerland.
The mobile application can be downloaded from the Apple App Store and the Google Play Store.