Health professionals: generate the CovidCheck Certificate on MyGuichet.lu following a negative rapid antigen test of a patient.
Coronavirus / COVID-19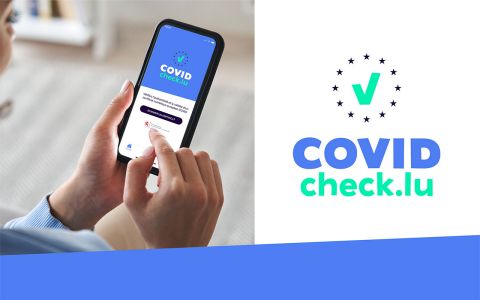 Physicians, pharmacists and certain other health professionals (nursing auxiliary, nurse, midwife, laboratory assistant, etc.) can issue certificates to their patients in the case of a negative COVID-19 rapid antigen test.
These certificates are EU Digital COVID Certificates (EU DCC) – referred to as "CovidCheck Certificates" in Luxembourg.
As of now, health professionals can generate a digital version of the CovidCheck Certificate online after a negative rapid antigen test using the form available in their business eSpace on MyGuichet.lu.
Please note that if the national identification number (13-digit number - matricule) is not entered during the online procedure, the CovidCheck Certificate will not be available in digital form in the tested patient's private eSpace on MyGuichet.lu.
CovidCheck.lu
CovidCheck Certificates issued after a negative COVID-19 rapid antigen test in Luxembourg contain a secure QR code that allows to check the authenticity and validity of the certificate. This QR code can be scanned with:
the CovidCheck.lu mobile application made available by the Luxembourg government; and
the equivalent applications from the different countries participating in this system:

the 27 EU Member States;

Iceland;

Liechtenstein;
Norway;

Switzerland.